When it comes to bars, environment and ambiance are key factors in their success. A bar where people come to relax and socialize isn't going to keep customers coming back and staying longer if the atmosphere is less than ideal. And the more time and energy spent on inefficient operations in this fast-paced industry is money left on the table.
Bars face unique challenges when it comes to keeping their customers and employees comfortable, their environment welcoming, and making sure efficiency is also a top priority, including:
Maintaining indoor comfort
Overspending on energy and operation costs
Preserving a sanitary and safe environment
Keeping cigarette smoke, flying insects, and debris out
For bars, these difficulties could make or break a business and that's where Berner air curtains for bars can help.
Ready to get started?
Benefits of Air Doors for Bars
Air doors, also known as fly fans, for bars create an invisible "wall" by sending a controlled stream of air across an opening such as a main entrance, service or kitchen door, or even a walk-in cooler. This barrier separates different environments while not obstructing the flow of foot traffic through the openings.
How does this help bars?
Increases overall customer satisfaction by improving indoor air quality and thermal comfort, making for a more satisfying experience and atmosphere
Energy savings: the high foot traffic that bars see both in the front of house at main entrances and the back of house at kitchen doors can cause inflated energy costs by making the HVAC system work extra hard to maintain the indoor temperature. The barrier created by an air curtain reduces this added strain by keeping the outdoor weather, out, starting right at the door
Higher sanitation: Berner has EPH Certified to NSF 37 air curtains specifically designed for kitchen and service entryways, and air curtains in general are FDA and USDA recommended for all exterior doors for chemical-free flying insect control
Safer environments – Air curtains, as part of how they function, de-stratify and circulate the room air, increasing the indoor air quality (IAQ) of the space.
Air curtains over walk-in cooler entrances offer a more sanitary and effective solution to plastic strip doors by providing better maintenance of the cooler's interior temperature, which, in turn, creates less food waste and reduces compressor run times which lowers energy costs. Using air curtains also reduces the touch points and additional cleaning of vinyl strip doors.
Protect against outside contaminants: due to the very social element of bars, patrons often enter and exit multiple times, causing the infiltration of fumes, such as cigarette smoke, along with flying insects and debris. Air curtains help to keep these contaminants out and improve IAQ
Berner offers a range of air curtains for bars to fit every need and application to help create more revenue and save on costs. In business for over 60 years, we have the expertise and experience to get you the right product, every time.
Contact us today to learn more.
Installation Applications for Air Curtains for Bars
Air doors for bars can be used over a variety of openings throughout the building, including customer entrances, kitchen/service entries, walk-in coolers, indoor/outdoor bars and patio/garden entryways, and shipping/receiving areas.
Main customer entries see a great amount of foot traffic, especially for bars where patrons are constantly coming and going. Berner's Architectural Air Curtains are designed to provide protection while not taking away from the building's aesthetics and are great for these types of openings.
Berner also has AMCA Certified air curtains that meet ASHRAE Standard 90.1-2019 and other building codes as exceptions to vestibules. This eliminates the need for an expensive, space-consuming addition to the establishment's main entrance.
The Berner PureAir Package™ is a great solution for ensuring the quality of air indoors and eliminating potentially harmful viruses, bacteria, and mold spores.
Bar owners and managers use a Berner EPH Listed to NSF 37 air curtain on their kitchen and service doors for USDA and FDA recommended chemical-free insect control. A fly fan installed in the back of house can help meet health code and save energy.
Series # SHD07 (formerly SHC07) NSF 37 Air Curtain
For Mounting Heights to 10', Certified to NSF 37 to 7'
View Product
Series # SLC07 NSF 37 Air Curtain
For Mounting Heights to 8', Certified to NSF 37 to 7'
View Product
When used over walk-in cooler entrances, an air curtain offers a more sanitary and effective solution to plastic strip doors. They reduce energy consumption by maintaining refrigeration temperatures and reduce the threat, and associated costs, of food spoilage, even during peak business hours when traffic in and out of the cooler is highest.
Series #CLC08
For mounting heights to 8' (environmental separation) and 7' (insect control).
View Product
Use air curtains to help bring the fun outdoors without sacrificing indoor comfort and keeping flying insects away from your outdoor patrons.
Protect the inside from outside temperatures and flying insects while still allowing easy access to outdoor dining areas.
When deliveries are made and goods and trash are passed back and forth, protect the back of house from infiltrating temperatures and flying insects with a Berner air curtain.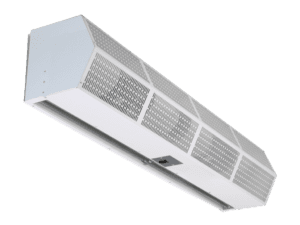 Series # CHD10 (formerly CHC10)
For mounting heights to 10' (environmental separation) and 8' (insect control).
View Product
Series # IDC12
For mounting heights to 12' (environmental separation) and 10' (insect control).
View Product
Series # IDC14
For mounting heights to 14' (environmental separation) and 12' (insect control).
View Product